Impact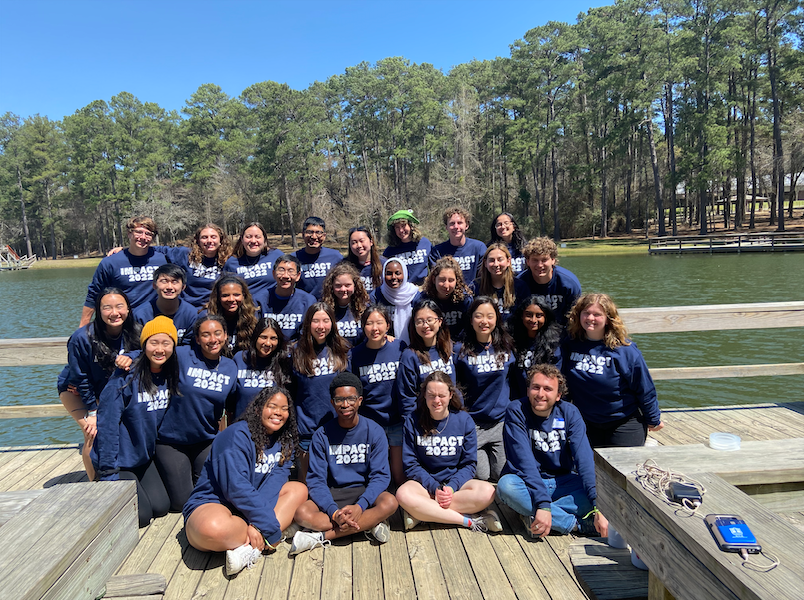 Jan 13-15, 2023 (MLK Weekend)
Deadline: Monday, September 12, 2022
Impact Rice is a leadership development program for freshmen and sophomores that centers on an exciting weekend-long retreat and aims to foster relationships, facilitate skill building, instill confidence, and empower students to engage with their passions in a significant way so that they can make a change as leaders, both inside and outside the Hedges.
We accomplish this by providing engaging peer-led workshops that emphasize self-knowledge and professional development, forming collaborative environments, recognizing personal passions and values, and developing leadership confidence and vision, in addition to building tight-knit friendships through fun-filled activities and events. Impact provides a diverse network of current and former participants who celebrate each other during successes and support each other through difficulties.
Coordinators

Zainab Niaz

Martel, Senior, Chemical and Biomolecular Engineering, Biochemistry Minor

Hello! As an IMPACT participant during my sophomore year (a year primarily defined by COVID and uncertainty), I learned invaluable lessons from Impact regarding flexibility, strength, and confidence during new situations. I can't wait to help coordinate this year's retreat and help the new cohort grow and flourish as the future leaders of Rice! Outside of Impact, I tutor and participate in biomolecular engineering research at the BRC. In my free time, you can find me obsessing over the NYTimes Spelling Bee game, trying as many new cuisines as I can, and watching Phineas and Ferb on repeat. See y'all soon!

Jack Bodnar

Martel, Senior, Biosciences (Concentration in Biochemistry) and Classical Studies (BS/BA Dual Degree)

Hi everyone! I first participated in Impact as a Freshman, and I staffed last year as a Junior. Being a participant in Impact really helped me learn a lot about myself, especially surrounding moving past failures as well as how I could contribute to the Rice community through my own unique interests. Having staffed and now being a coord, I'm eager to continue giving back to the great experiences I had by providing an opportunity for a new cohort to grow personally and as leaders. Outside of Impact, I'm a TA for General Chemistry, a Martel Mentor, and am involved in a few IM sports at Martel. I also love swimming, movies, video games, travel, and music. I can't wait to meet everyone this year!
Staffers

Alisha Aggarwal

Duncan, Sophomore, Sports Medicine and Exercise Physiology and VADA (Concentration in Film and Photography), Medical Humanities Minor

Hi! I attended Impact as a participant last year, and I'm really excited to return this year as a staffer. Impact was a really great experience for me, especially because of the tight-knit community and positive atmosphere that I encountered. I hope to provide that same enriching experience for participants this year and help them navigate their own paths. Outside of Impact, I enjoy photography, traveling, sunrises, trying new foods, and finding a new hobby every month. I can't wait to meet y'all!

Fatima Akilo

Sid Richardson, Junior, Chemistry and Spanish, Portuguese Studies Minor

I did Impact my freshman year during COVID. Due to the pandemic's complications, I found it extremely difficult to seek out opportunities or even take care of myself at Rice. That's why I'm so appreciative of Impact! Not only did I learn about wellness, confidence, and taking initiative, but I learned how to utilize failure and push forward. I'm so excited to meet the new cohort, and I hope that I can help y'all on your journey to make the most of your Rice career (and beyond!). In my free time, I do nanochemistry research, volunteer, lead the Sid Merch Committee, serve as an O-Week Advisor, and work at the Welcome Center. When I'm not entirely deceased from my packed schedule, I love painting my nails, getting Torchy's, and playing Candy Crush.

Virginia Baskin

Baker, Junior, Cognitive Science (Concentration in Computation), Data Science Minor, Statistics Minor

Hi everyone! I attended IMPACT as a freshman and I am so excited to return this year as a staffer! IMPACT taught me a lot about personal growth, leadership, & how to find balance here at Rice. I was able to meet amazing, fascinating people that I still keep up with. My IMPACT experience was one of my favorite memories of freshman year, and I am so hyped to get to return the favor to future participants! Outside of Impact, my passions include cooking (&eating), biking, watching movies, and hang out with friends! I can't wait to meet y'all!

Vanessa Chuang

Jones, Junior, Psychology, Ecology and Evolutionary Biology Minor, Poverty, Justice, and Human Capabilities Minor

Welcome to Impact! I was part of the virtual experience in 2021, and I'm looking forward to staffing at this year's retreat. Impact is a space where I was able to grow as a person and leader through workshops on topics such as conflict management and overcoming failure. I hope that you too will be able to find a supportive community here and learn more about yourself. In my free time, I enjoy reading, playing tennis, and hanging out in Jones commons. I can't wait to get to know you all better, so please feel free to reach out if you want to talk at any time!

Josh Fang

Hanszen, Sophomore, Social Policy Analysis, Data Sciences Minor

I participated in Impact my sophomore year, and I am so excited to return as a Staffer! Impact has developed my self-knowledge, leadership skills, and sense of community at Rice. I look forward to sharing that experience with you! Outside of Impact, I serve as the President of Civic Duty Rice and the Treasurer of the Rice Owls Dance Team. My other interests include baking, doing yoga, and talking about philosophy. If you ever see me around campus and want to chat, please say hi!

Maya Gerke

Jones, Sophomore, Kinesiology and Sports Management

I learned about Impact from my O-Week Advisor and participated my freshman year. Because of Impact, I have been able to grow and learn about myself as a leader. I came back from the retreat with a newfound confidence in my abilities to lead and be led. Back at home, I like to drive to the beach, eat bagels, and am constantly on the search for the best penne alla vodka. On campus, I love staying active whether it be going on a run, working out or participating in Jones IM sports. You can probably find me in Fondy studying during the week, but if you ever want to take me away from it I am always down for a Starbucks break. If you ever need a concert buddy, I am always down to tag along! I love dancing, listening to music/making playlists, and wearing flare pants. I am super excited for this year's retreat, we have a great staff!

Amanda Kiesel

Martel, Sophomore, Psychology and Sociology, Politics, Law, and Social Thought Minor

Hi everyone! I participated in IMPACT my freshman year and am pumped to return this year as a staffer!! IMPACT gave me the opportunity to learn more about myself and others through thought-provoking discussions and reflection. Self-development and growth requires a degree of vulnerability; the IMPACT community fostered an environment where being vulnerable was safe and welcomed. Outside of IMPACT, you can find me jamming to my Spotify tracks in Martel commons, taking walks around the Inner Loop, or playing on the football field with the marching band! I'm also involved with the RHA program and Martel's Trivia Night committee! I can't wait to meet you all!

Walsh Klineberg

Jones, Sophomore, Mechanical Engineering, Engineering Design Minor

Hi everyone! I'm Walsh and I was a part of Impact last year. It really made me feel connected to the rice community and was a great learning experience for me. Picture is me making s'mores at the retreat :) I'm super excited to help impact return to normal as a staffer (post-COVID) and help make it an even better experience for students. Outside of impact I play on the club soccer and lacrosse team, and have been involved in multiple doerr leadership programs. I'll be an advisor at Jones this year and hopefully some other colleges for the next two years. I love to do stuff outside and am normally a pretty active person. I love to read and listen to music in my free time. This summer I got to travel to Costa Rica for a study abroad program and it was a blast! Looking forward to meeting everyone.

Amey Maley

Hanszen, Senior, Statistics, Poverty, Justice and Human Capabilities Minor

Hey folks! My name is Amey, I first attended Impact as a Sophomore and I'm excited to be joining back as a Staffer for my final year here at Rice. Stepping into second semester Sophomore year as a transfer and remote student, the Impact retreat and community was a transformational opportunity to better understand myself and where I fit in on this campus and beyond in a post-Quarantine world. Since then I have felt more empowered to practice vulnerability and intentionality in my walking life and seek more fulfilling relationships with others and myself. Here at Rice I serve as shift manager for the Patient Discharge Initiative and dabble in committees at Hanszen as well as engage in the nonprofit landscape here in Houston. As for outside of school, I'm a native of the Chicago suburbs and in my free time I like to listen to new podcasts, run, and eat carrot cake!

Vedha Penmetcha

Sid Richardson, Sophomore, Biosciences, Medical Humanities Minor, Global Health Technologies Minor

Aloha everyone! I participated in Impact last year and found it as a great way to understand myself and connect with those around me! Now, I'm super excited to be back as a staffer and help out in any way I can! Impact helped equip me with skills I didn't realize I would use so immediately after the retreat. Those lessons have been helping me develop my personality and how I approach various issues in my life ranging from personal to professional. I know they will continue to help me grow as I navigate Rice and beyond. As a staffer I hope I can help create a similar experience for you all too! Outside of classes, I'm often spending late nights dancing as a part of Riyaaz or taking a stroll around campus. If you see me around at a reasonable time, though, definitely stop me and we can chat about anything from songs and tv shows (currently hooked on suits) to tea, coffee, and bagels!
Advisors

Caity Hoover

B.A., English and Creative Writing
M.Ed., Student Development Administration

As the advisor for Impact, I hope students walk away from their experience with more awareness, confidence and courage. The more we understand ourselves, the closer we are to fulfilling our potential and living out our passions. That's the influence that Impact has on participants. In my free time, I am typically exploring all that Houston has to offer. The Houston Zoo is one of my favorite Houston spots so far.