Impact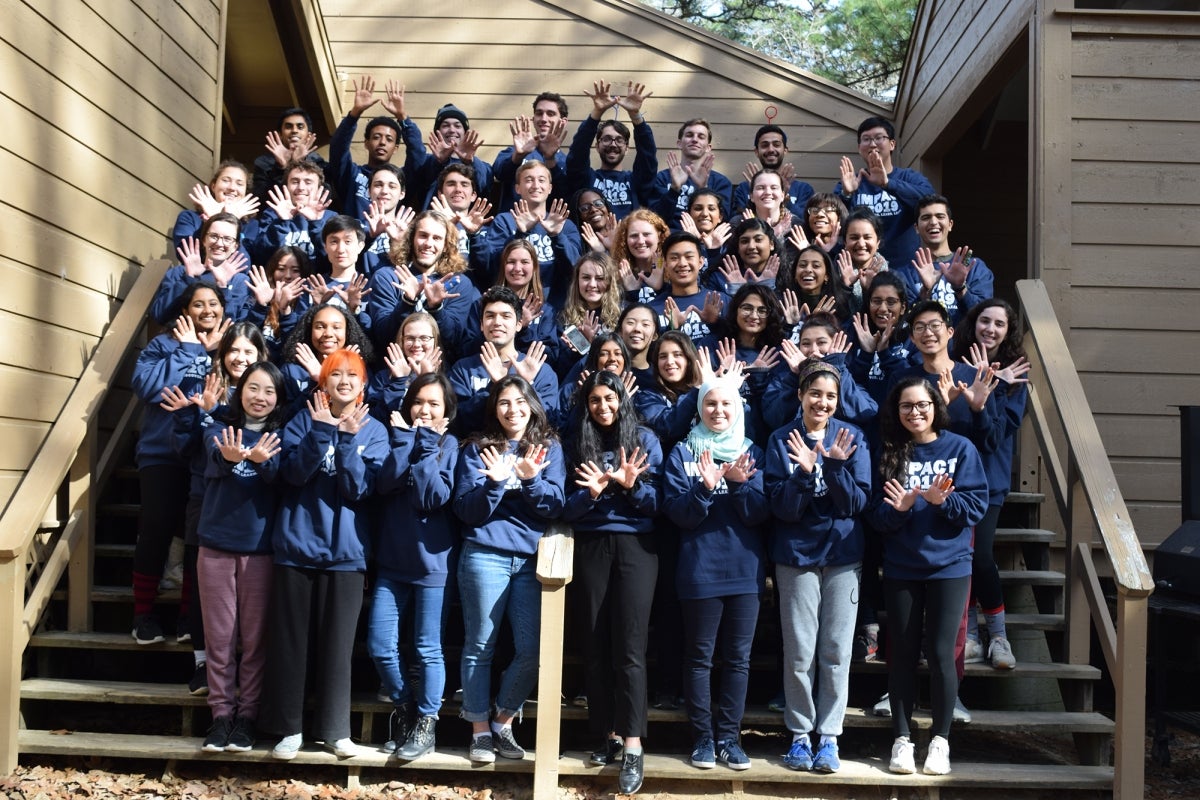 Jan 17-19, 2020 (MLK Weekend)
Deadline: Applications Due September 13th at 11:59pm
Impact Rice is a leadership development program for freshmen and sophomores that kicks off with an exciting weekend-long retreat and aims to foster relationships, facilitate skill building, instill confidence, and empower students to engage with their passions in a significant way so that they can make a change as leaders, both inside and outside the Hedges.
We accomplish this by providing engaging peer-led workshops that emphasize self-knowledge and professional development, forming collaborative environments, recognizing personal passions and values, and developing leadership confidence and vision, in addition to building tight-knit friendships through fun-filled activities and events. Impact provides a diverse network of current and former participants who celebrate each other during successes and support each other through difficulties.
Coordinators

Sanika Rane

Martel College, Senior, Kinesiology (Health Sciences) Major, Global Health Technologies Minor

This year will be my third year in a row attending Impact-I went as a Participant during my sophomore year, I went as a Staffer during my junior year, and I will be returning as a Coordinator for my senior year. What drives me to keep returning to this experience is simple-the people. Impact is a community of incredibly passionate students. During my Impact experience, I was able to define my personal growth, and I can't wait to work with Ariana to watch all of you grow too. When I'm not doing Impact, you can find me drinking an iced Nutty Bee at Coffeehouse, petting strangers' dogs, and biking around campus.

Ariana Engles

Lovett College, Senior, Religion and Kinesiology (Sports Medicine) Majors

I attended Impact as a freshman, and through that experience, learned that above all, I value intentionality. I also learned how to work within a team, how to overcome failure, and how to best leverage my goals as a leader. Following that experience, I became very engaged in Rice's student government, and served as a SA senator and as SA President. I'm looking forward to working with Sanika to build an Impact that will enrich Rice students in the ways that my experiences have enriched me during my time at Rice. Outside of Impact, I enjoy scuba diving, kayaking, and have a deep love for coffee.
Staffers

Raiha Abbas

Baker College, Junior, Chemical & Biomolecular Engineering Major

I did Impact my Sophomore year, and it helped reshape a lot of my perspectives towards Rice and on my long term goals. I'm excited to come back as a Staffer this year and help others learn how to reshape or add to their own Rice experience! Outside of Impact, I'm involved with Rice Eclipse and Baker Cabinet (ask me how to make rocket fuel or fend off irresponsible college students from Baker stuff--many things to say about both). And I'm always down to listen to some Spoken Word, read some good books and stories, or sit down with a cup of coffee and chat!

Adam Cardenas

Baker College, Junior, Chemistry Major, Business Minor, Biochemistry and Cell Biology Minor

As an Impact participant last year, I was able to gain a new sense of awareness for myself and the community around me in regards to strengths, failures, friendships, gratitude, leading, and more! Now as a staffer, I'm super excited to be able to share this invaluable experience with the new participants! I'm from League City, Texas (about 40 minutes from Rice), and my passions include: applying sunscreen daily, running, saying swimming is my hobby but rarely going, communications and marketing, teaching, dermatology, and Twitter! If you want to chat about my passions, life, or green tea ice cream (mmm that sweet, earthy taste), feel free to talk with me!

Nick Falkenberg

McMurtry College, Senior, Mathematical Economic Analysis Major

For me, Impact was a fun way to meet other Rice students while also reflecting on my own goals and interests. As a staffer, I hope to give back to my university by giving the next cohort the same opportunity for growth. Academically, I'm really interested in data science, language learning, economics, geography, and astronomy, among many others. Talk to me about movies, map collecting, basketball, soccer, salsa, apples, video games, travel, or anything that interests you!

Thomas Herring

Martel College, Senior, Electrical and Computer Engineering Major

Impact was a really important point of my sophomore year. It taught me so much about what it means to be a leader and I'm so excited to come back to be a staffer! When I'm not in the OEDK, you can find me cycling around the Beer Bike track, grabbing coffee at Chaus, or playing video games with my friends.

Sahana Prabhu

Martel College, Junior, Chemistry Major

Hi! I participated in IMPACT my sophomore year and through the experience, I have learned how to better understand the person I am growing into and how to channel my energies into positive change. I cannot wait to meet you, advocate for your passions, and watch you navigate and grow from your experiences at IMPACT, Rice, and beyond! A little bit more about me: my passions include green tea ice cream, blueberries, graphic design, Bollywood films, cheesy jokes, and the color cerulean. My ultimate goals in life are to remain positive, smile a lot, and inspire others!

Jack Sheehan

Duncan College, Junior, Earth, Environmental, and Planetary Science and German Studies Majors

Since participating in Impact my freshman year, I've been super excited to come back and staff! Impact helped me connect with people across campus, as well as take time to build my self confidence and set life goals. Outside of Impact, some of my hobbies are watching soccer, running, and trying to graduate. You can find me giving campus tours, falling off my Penny board, or talking about my study abroad experience to anyone who will listen. I can't wait to meet everyone this year!

Jayson Taylor

Lovett College, Senior, Civil and Environmental Engineering Major

After participating in Impact my sophomore year, I am excited to return as a staffer for Impact 2020. I hail from the state with the best flag, Maryland! I am extremely passionate about environmental sustainability, and improving water treatment and flood mitigation technologies. You can find me at the Holistic Garden (across from RUPD) or binge-watching TV shows and movies in The Lovett Commons. I can't wait to meet y'all!

Su Chen Teh

Martel College, Senior, Civil and Environmental Engineering Major

Impact was a great way to learn more about myself, meet wonderful people, and plan out how I wanted to spend the rest of my time in Rice. I am super excited to finally be a part of Impact again as a staffer and give back to this amazing community! I am a senior at Martel College, and am a long way from my home in Singapore. I care a lot about climate change and environmental issues, but some of my less depressing interests are Spongebob Squarepants and Lord of the Rings. Looking forward to meeting and learning from all of you!

Marcus Tierrablanca

Lovett College, Junior, Anthropology, Linguistics, and Ecology & Evolutionary Biology Majors

The biggest things I gained out of my Impact experience in 2018 were self-confidence and the ability to look at all aspects of my life - successes, failures, hopes, fears - and to use them proactively looking forward into the rest of my time at Rice and beyond. There's nothing I love more than a nice cup of coffee and quality time with some friends (while camping is preferred) and just general exploring. I am so excited to be staffing this year and I cannot wait to get to know all the participants and give them as much of an amazing experience on this retreat that I had!

Shruti Wadhwa

Martel College, Junior, Cognitive Science Major

Hello future Impacters! My name is Shruti Wadhwa and I did Impact my sophomore year. It was an experience in which I was able to learn about my peers and be vulnerable with them, as well as learn skills that I will carry for the rest of my life. I am from Louisville, KY and some random things I love are: being goofy, mindlessly driving around, listening to podcasts, following politics, trying new restaurants and coffee shops, and spending hours on end procrastinating to perfect my Spotify playlists. I feel so humbled to be one of your Staffers and I can't wait for Impact 2020!
Advisors

Caity Hoover

B.A., English and Creative Writing
M.Ed., Student Development Administration

As the advisor for Impact, I hope students walk away from their experience with more awareness, confidence and courage. The more we understand ourselves, the closer we are to fulfilling our potential and living out our passions. That's the influence that Impact has on participants. In my free time, I am typically exploring all that Houston has to offer. The Houston Zoo is one of my favorite Houston spots so far.