Impact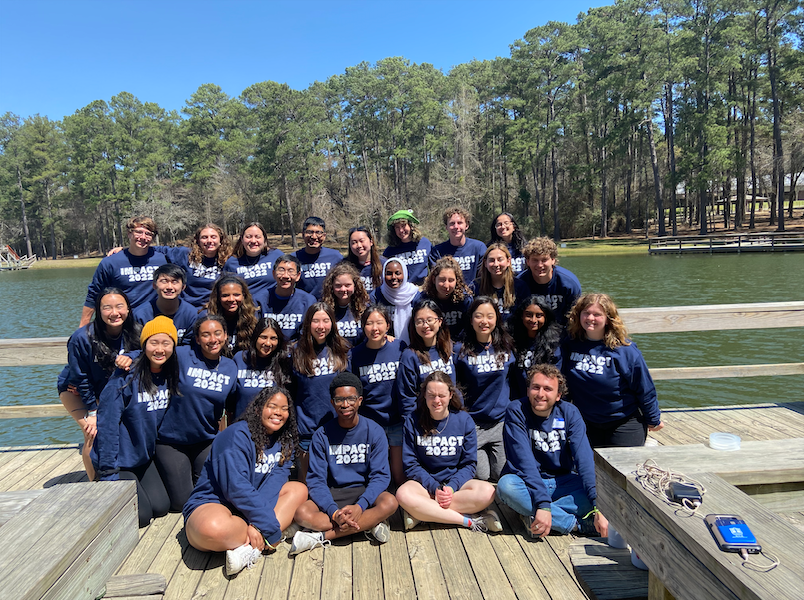 February 9-11, 2024 (Spring Midterm Recess)
[EXTENDED] Interested in attending the Impact Rice Retreat? Apply Here!
Due to so many requests for us to open up the retreat to more class years, we are excited to announce the retreat is now open to ALL students - both undergraduate and graduate students!
Participant Application Deadline: Sunday, October 15, 2023
Welcome to our transformative Impact Rice Retreat Program! Embark on a journey of self-discovery, growth, and empowerment as you engage in a dynamic experience that hones your leadership skills and fosters meaningful connections. Our carefully curated program offers a unique blend of workshops, team-building activities, and reflective sessions, all set against the backdrop of a picturesque retreat location. Through interactive sessions led by seasoned mentors and leadership experts, you'll uncover your leadership potential, develop essential communication techniques, and gain insights into effective goal-setting. Whether you're just beginning your college journey or seeking to enrich your academic path, this retreat is the ideal opportunity to cultivate confidence, build a supportive network, and lay the foundation for a successful future. Join us and step into your leadership journey with purpose and passion!
We accomplish this by providing engaging workshops that emphasize self-knowledge and professional development, forming collaborative environments, recognizing personal passions and values, and developing leadership confidence and vision, in addition to building tight-knit friendships through fun-filled activities and events. Impact provides a diverse network of current and former participants who celebrate each other during successes and support each other through difficulties.
During the retreat, you will experience:
A goal-setting session to define your personal and leadership aspirations.
Explore the depths of your personality and motivations through self-awareness activities.
Uncover your unique strengths with Gallup Strengths, empowering you to excel in various aspects of life.
Dive into your core values and create clear purpose that drives your actions and aspirations.
Plus many surprises!
Benefits to being an Impact Participant:
Access to exclusive networking and skill-development opportunities until graduation from Rice.
Four free coaching sessions from an International Coaching Federation credentialed mindset coach.
Free to participate! Includes food, lodging, swag, and transportation during the retreat.
Connect with peers on campus and create deeper bonds.
Mentorship from experienced peers.
A journal to capture reflections, insights, and personal growth moments from the retreat.
A certificate acknowledging their attendance and active participation in the retreat.
Become a Peer Facilitator for IMPACT!
As a Peer Facilitator, you will play a crucial role in supporting the planning and execution of the retreat, fostering a positive and engaging environment for retreat participants, and contributing to the overall success of the program. This is an excellent opportunity to enhance your leadership and facilitation skills while making a meaningful impact on the Rice University community.
Your Role as a Peer Facilitator
Anticipated Peer Facilitator Responsibilities
Attend Impact Peer Facilitator Orientation in September.
Attend Impact Rice Retreat (February 9-11 2024).
Meet with their Impact Huddles (small groups) twice a semester.
Attend Impact Peer Facilitator meetings (2-3 per semester)
Help facilitate workshops, small group discussions, and activities during the retreat.
Assist in Pre-Retreat Planning: Collaborate with the Impact Rice Retreat advisor to help plan and organize various aspects of the retreat, including workshops, activities, logistics, and participant engagement strategies.
Facilitate Small Group Discussions: Lead and facilitate small group discussions, called Impact Huddles, throughout the year and during the retreat, creating a safe and inclusive space for participants to share their thoughts, experiences, and insights.
Support Workshop Presenters: Provide support to workshop presenters, ensuring they have the necessary resources and materials for their sessions.
Foster a Positive Environment: Encourage a positive and supportive atmosphere during the retreat, promoting open communication, active listening, and respect among participants.
Assist with Logistics: Help with event logistics, registration, participant check-ins, and any other administrative tasks as needed to ensure a smooth and seamless retreat experience.
Mentor Participants: Provide guidance and support to participants, answering questions, offering advice, and serving as a mentor throughout the year by meeting with their small groups, called Impact Huddles, and during the retreat.
Promote Engagement: Actively engage with participants, encouraging their participation in activities and workshops, and ensuring a high level of engagement throughout the retreat.
Attend Facilitator Orientation and Facilitator Meetings: Participate in facilitator training sessions conducted by the Impact Rice Retreat team to enhance facilitation skills and gain a deeper understanding of the retreat's objectives.
Advantages of Serving as a Peer Facilitator
Access to exclusive networking and skill-development opportunities.
Access to free coaching from an ICF-credentialed coach.
Free resume review and consultation.
Flexible time commitment outside of the retreat weekend.
Free accommodations, food, swag, and transportation during the retreat.
Opportunity to connect with peers on campus and make deeper connections.
Time Commitment
The time commitment for the Peer Facilitator role will vary based on the pre-retreat planning, facilitator training sessions, and the Impact Rice Retreat itself. Expect to dedicate approximately 2 to 4 hours weekly and once the retreat commences, Peer Facilitators will remain active and on-call for the entire duration of the retreat, which is from Friday, February 9th to Sunday, February 11th, 2024.
Student Eligibility
Must be in good standing with the university.
Must be enrolled for the entire academic year.
Must not be participating in study abroad programs during the academic year.
Must have held a leadership position or participated in a leadership program before.
Questions? Please email ch65@gmail.com for more information!