Impact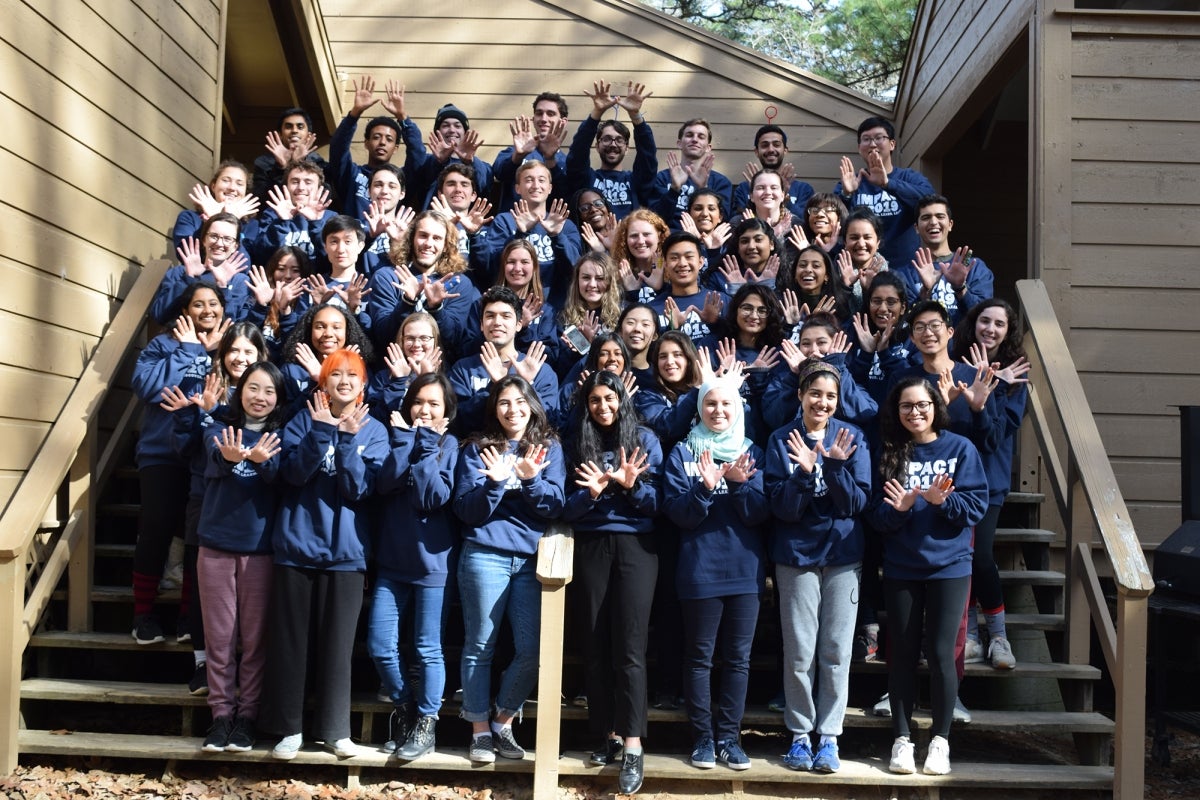 Jan 14-16, 2022 (MLK Weekend)
Deadline: Applications Due September 12th at 11:59pm
APPLY HERE!
Impact Rice is a leadership development program for freshmen and sophomores that kicks off with an exciting weekend-long retreat and aims to foster relationships, facilitate skill building, instill confidence, and empower students to engage with their passions in a significant way so that they can make a change as leaders, both inside and outside the Hedges.
We accomplish this by providing engaging peer-led workshops that emphasize self-knowledge and professional development, forming collaborative environments, recognizing personal passions and values, and developing leadership confidence and vision, in addition to building tight-knit friendships through fun-filled activities and events. Impact provides a diverse network of current and former participants who celebrate each other during successes and support each other through difficulties.
Coordinators

Jared Perkowski

Duncan, Senior, Economics and Social Policy Analysis

Participating in IMPACT my freshman year was one of the highlights of my time at Rice. I'm super excited to help coordinate the retreat and come back to a place that gave me a lot of confidence to be my genuine self, helped facilitate a ton of growth as a leader/person, and gave me relationships that I still cherish today as a senior. Outside of IMPACT, my interests include running/swimming, dad jokes (or puns in general), Cleveland sports, and hanging out with friends. Super excited to meet y'all this year and if you need anything feel free to reach out!

Syed Shams

Hanszen, Senior, Biochemistry and English (BS/BA Dual degree), CCL Certificate

Hello everyone! My name is Shams, and I am half of the coord team this year, and I staffed last year as a Junior, and attended my first impact as a Sophomore! Impact was a great way to learn more about handling failures, how to deal with conflict and relationships, and how to make the best use of my time here at Rice in different clubs and extracurriculars! It was also a great way to meet like-minded ambitious students. Beyond Impact, I really enjoy research, writing essays, and running. You can find me on campus at the Hanszen commons, or at Fondren sixth at the dead of night. Can't wait to meet all of you!
Staffers

Bria Weisz

Brown, Junior, Computer Science in the Arts with a minor in Museums and Cultural Heritage

Impact really allowed me to get out of my leadership comfort zone! Not only did I meet lots of different emerging leaders in my class and the year above, but I got to understand myself better as a leader, especially where I can improve and grow. Aside from the retreat, I'm involved in student theatre on campus like the Rice Players and treat Hamman Hall like a second home. You can always come talk to me about anything theatre, animation, tea (the drink), or whatever else is on your mind. I can't wait to meet you!

Makayla Franco

Hanszen, Senior, Sport Management Major, Business Minor

After being a participant in Impact my sophomore year, I brought a new perspective of myself and others back to Rice! I'm super excited to be a staffer and contribute to your Impact experience!!!

Outside of Impact, you can likely find me in Hanszen commons studying (read: talking), working at The Hoot, or at a concert!! Please chat with me about social media, dogs, skateboarding culture, the British invasion of 2012 (shoutout One Direction), or why Spotify is the superior streaming platform!

Helena Leal

Baker, Senior, Cognitive Sciences and Psychology

Hello! I did IMPACT my sophomore year and now I'm super excited to return as a Staffer. At IMPACT I met some incredible people and learned how to continue to grow my personal skills, reflect on my interests, and increase my self-confidence. I went to IMPACT during a really challenging time for me at Rice and it was monumental in re-inspiring me when I needed it the most. A little about me: I'm from Davis, CA but my family's originally from Brazil so I speak Portuguese and I love to travel! You can find me dancing on the football field, obsessing over cute cats, and laughing at absolutely everything. Really looking forward to meeting y'all!

Daniel Joshua

Jones, Junior, Computer Science and Cognitive Science Majors, Cinema & Media Studies Minor

Hello! I attended Impact last year, and I am so excited to be a part of it again. I carried away so much from my experience, including a vibrant cohort of peers from all over campus, a new outlook on leadership and the unique ways I practice it, and a diverse set of skills to help facilitate my academic and personal growth through my passions. Speaking of passions, mine are graphic design, human-computer interaction research, and lastly (and arguably most importantly), movies! You can find me in the Jones movie room or working at the Moody Center for the Arts! I can't wait to meet all of you!

Alexander Walberg

Jones, Senior, Philosophy and Spanish Majors

Participating in Impact last year was a fundamental aspect in my transition to Rice as a transfer student. As a staffer, I hope to help participants develop a sense of confidence to pursue their academic and personal aspirations during their time here. I hail from Mexico City, though Brooklyn will always be my OG home. Some of my hobbies include going on 30+ minute walks, working as a KOC at Chaus, and constantly thinking about getting a third piercing.

Jack Bodnar

Martel, Junior, Biosciences (Concentration in Biochemistry) and Classical Studies Majors

I attended Impact my freshman year, which really helped me learn a lot about myself, especially surrounding moving past failures as well as how I could contribute to the Rice community through my own unique interests. As a staffer, I'm looking forward to giving back to the great experience I had by providing an opportunity for a new cohort to grow personally and as leaders. Outside of Impact, I'm a TA for General Chemistry, a Martel Mentor, and am involved in a few IM sports at Martel. I also love swimming, movies, video games, travel, and music. I can't wait to meet everyone this year!

Cooper Valentine

Duncan, Junior, Cognitive Science Major

I attended Impact as a freshman, and I knew I wanted to return as a staffer because of the tight-knit community, thought provoking discussions, and positive atmosphere. I spent the retreat learning so much about what it means to be a successful leader, as well as reflecting on myself, my goals, and my future. As a staffer, I hope I can bring the same supportiveness and sensitivity that made our cohort a lifelong unit. Outside of Impact, I love cooking for my friends and family, reading Westerns, and watching horror movies. I'm looking forward to meeting everybody in person this year

Yasmin Givens

Baker, Senior, Sociology and Social Policy Analysis Majors, Statistics Minor

Impact was a great opportunity for me to learn more about myself and redefine my own goals, meet new people across campus, and learn about great strategies to improve my leadership abilities. Given that Impact was such a meaningful experience for myself, I am extremely excited to be able to return as a staffer for Impact 2022 and help participants navigate their own paths at Impact, Rice, and beyond! A little bit about me: I'm from Little Rock, Arkansas and I do Kendo! And my passions include: drawing and crafts, bad romcoms, anything green tea flavored, and exploring Houston restaurants. I can't wait to meet you all!

Zainab Niaz

Martel, Junior, Chemical and Biomolecular Engineering Major, Biochemistry Minor

As a participant during my sophomore year (a year primarily defined by COVID and uncertainty), I learned invaluable lessons from Impact regarding flexibility, strength, and confidence during new situations. I can't wait to meet the new Impact cohort and help all of you grow into the future leaders of Rice! Outside of Impact, you can find me talking way too much about my immunology research, trying as many new cuisines as I can, and watching Phineas and Ferb on repeat. See y'all soon!

Elysia Wu

Lovett, Junior, Neuroscience and English with the Creative Writing Concentration

I attended Impact as a sophomore in 2020, and I'm super excited to come back this year as a staffer! Since Impact 2020 was virtual, I'm psyched that I'll be experiencing an Impact in the woods for the first time alongside y'all. I love the community that Impact builds, and I can't wait to meet everyone! You can find me at the library at 4 AM or at my apartment sleeping during regular human hours. Talk to me about books (I love psychoanalyzing characters), music (I dare you to find me on Spotify), running (I'm really slow tho), or anything at all!!
Advisors

Caity Hoover

B.A., English and Creative Writing
M.Ed., Student Development Administration

As the advisor for Impact, I hope students walk away from their experience with more awareness, confidence and courage. The more we understand ourselves, the closer we are to fulfilling our potential and living out our passions. That's the influence that Impact has on participants. In my free time, I am typically exploring all that Houston has to offer. The Houston Zoo is one of my favorite Houston spots so far.